stay tuned! New nutrition information is coming soon.
Upon joining Fed Rx Nutrition you will receive 1:1 personalized coaching that is specific to your goals. This includes a personalized macronutrient layout, access to me (your coach) 24/7, weekly or biweekly in person or online check ins, and the guidance you need to make this a lifestyle change and not a quick fix. My goal is to help you build healthy habits that you can sustain for life. Everyone's journey looks different, but I do ask for a minimum commitment of 3 months to help build and maintain these healthy habits.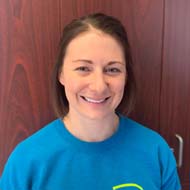 My name is Heather Smith and I am the owner of Fed Rx Nutrition. I am a Precision Nutrition Level 1 certified nutrition consultant. I also hold my CrossFit Level 1 Certificate and am currently pursuing my CPT certification (Certified Personal Trainer) through NASM (National Academy of Sports Medicine). My healthy nutrition journey started in February of 2018 when I learned the importance of macronutrients and how food fuels the body. Prior to that I struggled with balancing my busy lifestyle with proper nutrition. Instead, I found myself trying fad diet plans, fasting on occasion, to even developing eating disorders. These days nutrition for me has become more of a lifestyle development rather than a rulebook or number on a scale. As an avid fitness junkie, CrossFit aficionado, and lover of all things food, I feel it is my calling to bring the importance of proper nutrition and planning to whomever may need it. Like my husband always says, "Teamwork makes the Dream Work," and sometimes all it takes to make a change is knowing you've got me to help you do it.
Precision Level 1 Certificate
CrossFit Level 1 Certificate
1:1 Nutrition Coaching $120/month
Personalized Meal Prep $price varies$